Baby got boobs presents: Two young busty babes sucking on one massive huge cock
Scene Title: Friends help friends
Storyline: Renae Cruz and Whitney Stevens just bought some lingerie so they called their friend Jack to give them his opinion. Jack showed up at Renae's place not knowing exactly what to expect but once he saw these two big boobed sluts trying out their lingerie, he knew their real intentions. They just wanted his cock very bad so he wasted no time and fuck his busty slutty friends good!!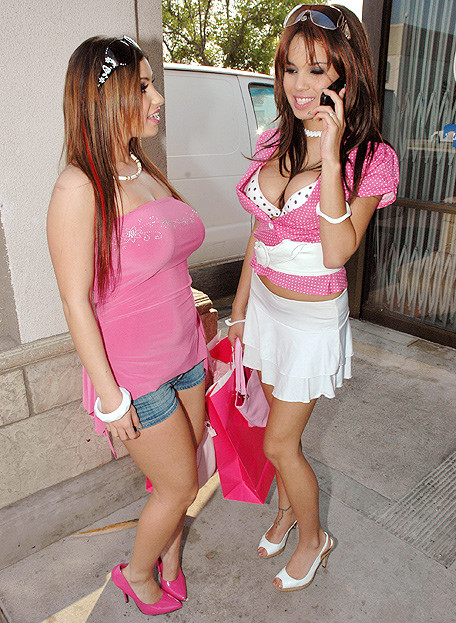 Whitney Stevens and Renae Cruz Babygotboobs HD Video
What people are saying about: Whitney Stevens and Renae Cruz - Friends help friends babygotboobs scene
Comment #1
nothing could be closer to perfect
Comment #2
Ok, Whitney Stevens is fucking hot, however, none of her scene's have been that great because she seems like a shy girl, never says much, even in this scene Renae was doing all the talking. I'd love to see Whitney in future scenes, but get her to open up more and have her get fucked hard by someone, she needs a good pounding damn it! Renae is not a favorite of mine, but she always gives a decent performance. In this babygotboobs video, I think Whitney looked better in a thong, but the lingerie top that Renae had on was better than the top Whitney had. Hated the animal print lingerie, If Whitney had a lingerie on similar to the one Renae had on in this scene, she would have looked even hotter. Renae's lingerie could have been better too, didn't care for that one on her, she should have worn something else. If you get Whitney to open up more, she'll make some great scenes, she has a nice fuckin body. The guy looked like an ass bag. I didn't mind the bunk beds, it was kind of a nice change, What I would have done though was when they were riding the guy reverse cow girl on the bottom bunk, have the other girl go on the top bunk and get her pussy eaten out by the girl getting fucked. It's stupid watching the other girl sit there and just play with the girls tits or masturbate while watching the other girl get fucked. They gotta be satisfied too, there was no pussy eating in this scene at all...it lacked a lot, especially for the length it went on for. 7/10
Comment #3
Renae Cruz is the sexiest woman on earth, but needs to gain back the weight that she's lost recently. My preference is to see her solo (with LOTS of tease), but if she must be paired with another performer, here are two separate -- and very different -- suggestions: Havana Ginger, for the ultimate Latin Lesbian Lovefest; or Daphne Rosen, who would take Renae under her gigantic bosom, cradling and cuddling her like a precious and exquisite doll.
Comment #4
Yeah, I've never really been a fan of Whitney but she was fucking hot in this scene, and of course Renae is always amazing. I agree, the bunk beds were kinda lame
Comment #5
God, I love Renae. She acts like she is the hottest thing in porn, and that there is none better, and that she should get *ALL* of your attention all the time. Whether these things are true is debateable, but I looooooove that "my shit don't stink" attitude on a woman. She left Whitney in the dust on this one, big-time. And while I can appreciate that Whitney's got some nice, big naturals on her, Renae's perfectly rounded, silicone-filled cans are considerably better. A woman is like a block of marble; it's valuable and beautiful on it's own, but it doesn't become perfect until it's been sculpted by man. Renae wins, hands (pants) down. =P
Whitney Stevens and Renae Cruz Babygotboobs Picture Gallery
If you're thinking:
"FUCK ME! I really dig this Whitney Stevens and Renae Cruz babe!
How much do I have pay to see the full length movie?
Only 1 lousy dollar?
27 sites included? Fuck Yeah, Show Me Where!"