Baby got boobs presents: Three busty chicks camping getting slammed by the Forest Patrol
Scene Title: Beware of Bears!!
Storyline: Shawna,Erika and Oklahoma finally found a good place to camp, so they installed their tent and started having fun. A couple of forest rangers interrupted them and warned them of the bears that live around the area. Luckily for the forest rangers, these three big titted hotties were just craving cock!!! So they asked the guards to join them and fuck their young tight pussies good!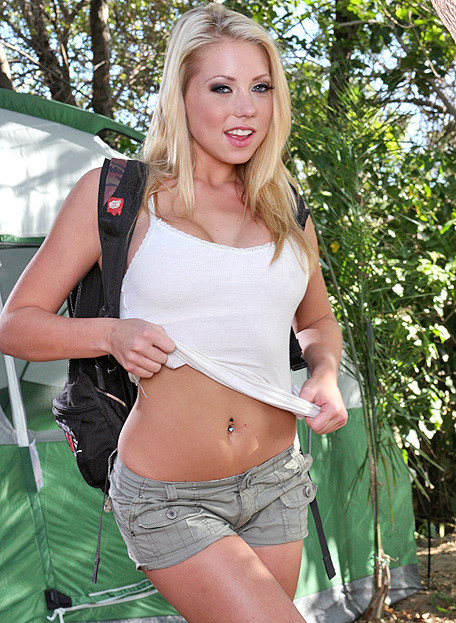 Shawna Lenee, Oklahoma and Erika Vuitton Babygotboobs HD Video
What people are saying about: Shawna Lenee, Oklahoma and Erika Vuitton - Beware of Bears!! babygotboobs scene
Comment #1
What a tease. That was some quick hot lesbian action. They should have been in a triangle sucking the juices from one another. These chicks were loose that's for sure. Two unknown guys walk up and they don't even bother to cover up. Okay the guy with Cheyne knows how to fuck. So it bothers some that Oklahoma(I guess green top)got more attention than Shawna. At the beginning it seemed that Shawna was gonna take control of the babygotboobs scenario. For some reason after keep eating my pussy comment, that was it for her. Erika and Oklahoma I liked them cause of the natural boobs. I mean nothing spectacular about them just average looking chicks. Actually with the noise going on in the background, they just wanted to get the scene done and rushed the shoot. Not a bad scene few adjustments and it would have been money. Snoogans!
Comment #2
Odd to see those naked bodies all wearing boots. Looks like one stud had pretty much one on one and the other had two pairs of hands to work his cock/balls over. Looked like the black (if I can use that word) girl was odd one out, and neer seemed to "bare it all". Space was too limited to show more variety in fucking.
Comment #3
Funkdoc, we are so on the same page, it's scary. I love that. Regarding Erika specifically, I watched her parts again, and I suppose I was a bit quick to judgment. I think her obvious discomfort, coupled with that fucking headband, is what really turned her off for me. I still think she's just average, looks-wise, and those tits are a bit floppy...but not in a necessarily nasty way. It's not as if I have to even *SAY* that I want her to get implants at this point...lol... Really, though, I think I'm just dying to get off to a new black woman. I was hoping she'd do it for me, but now it's back to waiting. *Sigh*...my bleach-bottle blondes never do this to me...lol...
Comment #4
anybody notice the chainsaw, the lawnmower, the car lock horn and a plane taking off. When they try make a more realistic babygotboobs scene couldn't they take the set off the valley parking lot or at least tell the landscapers to take the day off! LOL. good scene none the less
Comment #5
I swear NocNoc, your comments are the best to read, lol. I thoroughly enjoyed looking at Erica, maybe because she's a NEW woman of color, something I'm not used to here. I think she had some stage fright being that she looks like a newcomer. I wasn't so into the other girl, and I have no idea why the focus was on her. It clearly should have been on Shawna; best fuck, best suck, and best looking. I always like Cheynne's seens cuz he plays the nervous, bumbling cat to a "t"
Shawna Lenee, Oklahoma and Erika Vuitton Babygotboobs Picture Gallery
If you're thinking:
"FUCK ME! I really dig this Shawna Lenee, Oklahoma and Erika Vuitton babe!
How much do I have pay to see the full length movie?
Only 1 lousy dollar?
27 sites included? Fuck Yeah, Show Me Where!"