Baby got boobs presents: Kagney and Shawna start by eating dinner and end with a big thick cock
Scene Title: Ebenezer Keiran
Storyline: Money-lover Ebenezer Keiren despises Christmas and doesn't hesitate to let his co-workers know about it when they invite him to a friendly Christmas party. Ebenezer learns the error of his ways when the ghost of Christmas Hookups shows up and gives him a glimpse of what he could have been banging for Christmas this year.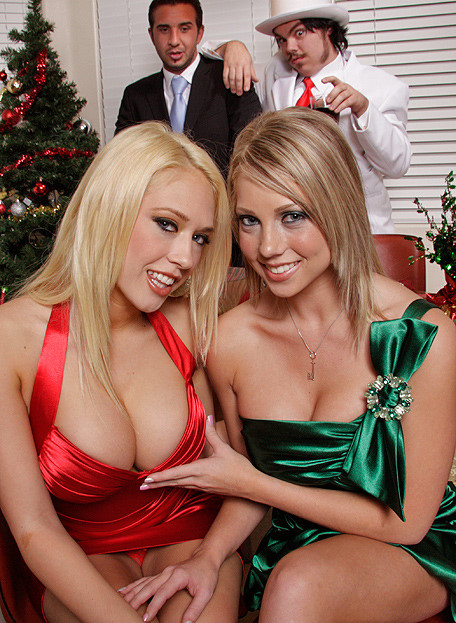 Shawna Lenee and Kagney Linn Karter Babygotboobs HD Video
What people are saying about: Shawna Lenee and Kagney Linn Karter - Ebenezer Keiran babygotboobs scene
Comment #1
KLK is an absolute goddess, I would give my left nut to wake up every morning to her, but it is really a shame when my favorite girl just doesn't seem to be getting satisfied... i mean shit, Kara--I mean Shawna, you're gorgeous, you looked better before the waterballoon implants though, but let my girl have some cock too!
Comment #2
this is one of the best. I really like the way she grinded, I look for that in alot of scenes and it never happens. Thank you
Comment #3
So much for the critics - I thought the babygotboobs video was damn hot! Shawna's best work in awhile; And she's always pretty good. Hot chicks - Lucky f-ckin Kieran Lee; Just another one of the lucky bastards on here...
Comment #4
The ghost is a funny cat, sounds like he's from NY. This could be a recurring theme. I was so looking forward to this, but it was a bit of a let-down. Shawna couldn't to a whack scene if she tried, she's incredible. I'm with everyone else - KLK looked completely disinterested, and I agree that she didn't get enough dick, but it's her job to put forth a good perfomance and she didn't. Too bad here cuz I think she's great. And wtf was with the gum? Seems unprofessional and it was definitely distracting.
Comment #5
This started with a kick ass setup. I was liking the the Ghost of Christmas Hook-ups. I thought Keiran and the Ghost would be looking the window watching him fuck too. If Keiran is going to be a judging a boobie contest, how come no titfucking then? I just knew with the enthusiasm that Kagney showed in her debut. That this was gonna be killer. I really thought this was gonna be a hot video since Shawna has been solid in her past scenes. Could of been three positions for each as long as the video was. Shawna got way too much time on the cock. You could tell that Kagney wasn't thrilled either. If it wasn't for the gum she was smacking on, she would have lost total interest. For those on KLK, imagine if you and your buddy was teaming on a chick. Your buddy gets all the pussy and you barely getting head cause she is constantly moaning. Then your turn was short and brief in the pussy before she went back to your buddy.
Shawna Lenee and Kagney Linn Karter Babygotboobs Picture Gallery
If you're thinking:
"FUCK ME! I really dig this Shawna Lenee and Kagney Linn Karter babe!
How much do I have pay to see the full length movie?
Only 1 lousy dollar?
27 sites included? Fuck Yeah, Show Me Where!"