Baby got boobs presents: Busty chick takes home a big cock to fuck
Scene Title: Bowling For Gold
Storyline: Savannah got stuck going to bowl all alone, but she doesn't let that get her down. She bowled all alone but that's when Ralph came along to give her some company. It didn't just end there. Savannah invited Ralph back to her house to play with her "bowling balls". Everything seemed to get really hot when they got comfortable. You would think she purposely went to the bowling alley to pick him up, maybe she did...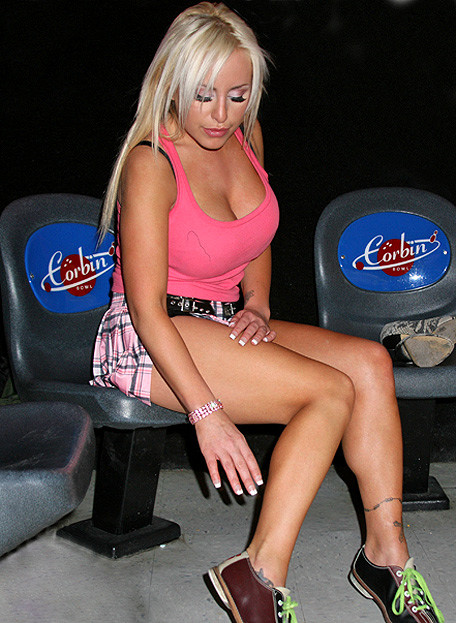 Savanah Gold Babygotboobs HD Video
What people are saying about: Savanah Gold - Bowling For Gold babygotboobs scene
Comment #1
I love the different setting, and Savanah's accent drives me wild every time I hear it!
Comment #2
I liked the bowling alley touch. It reminded me of Naughty Athletic's bowling alley scene, only with a hotter chick in it. Savannah had a great attitude in this babygotboobs video, her and Ralph worked good together. I like how she told him to not rush and made him keep sucking on her tits amd then had him eat her pussy instead of fingering it. That shit was hot. The sex was good, could have been rougher, but still good. The one problem with the scene was the sunlight ruining the picture at times during the scene. You should have closed the purple drapes to prevent the sunlight from ruining the picture. Overall, a good scene, Savannah's best in my opinion. 8/10
Comment #3
Savannah is very nice and very sexy. But not in this scene. It is ruined by a shithead dude who insists to go into his braindead out of control high speed nut sack flapping fuck mode. Below zero credits for Brazzers and the shitbrick dude for this kind af nonsense. When a wonderful woman as Savannah is online you could at least allow her to perform. Get your shit together Brazzers.
Comment #4
This scene is incredible. Ralph did a good job because he was really into her, and strangely she seemed to reciprocate. I mean look at his load in this one, he gave her alot juice. The cowgirl was off the hook, I really like her body type. Attention other Brazzers pornstars if there's one thing she's superb at over the top girls here it's eye contact. See how much more hot the looks and the contact and the kissing make a scene. Shit is authentic. 10/10
Comment #5
I really enjoyed the cleavage tease by Savannah. The underneath shot was pretty hot too. The setup and story was good. Actually being at a bowling alley was a nice touch. Ralph finally looked hot to me. Good titty fucking action today too. Getting more and more cowgirl in lately too and I love it. The skirt she was wearing turned me on something awful. great camera angles for this scene along with great sex. Nice cumshot all over her boobs and face. Ralph that's how you pick up a split. 2 erect nips, Snoogans!
Savanah Gold Babygotboobs Picture Gallery
If you're thinking:
"FUCK ME! I really dig this Savanah Gold babe!
How much do I have pay to see the full length movie?
Only 1 lousy dollar?
27 sites included? Fuck Yeah, Show Me Where!"