Baby got boobs presents: Mariah and Ricki want the black stallion but end up with the White Stallion
Scene Title: The Long Stallion
Storyline: Mariah & Ricki ordered themselves the famous "Long Stallion" for a hard pussy-pounding session. When Tommy Gunn finds the Long Stallion's cell phone at an ATM, he'll find himself in a very sticky situation, sticky as in cum all over two girls' titties sticky!!!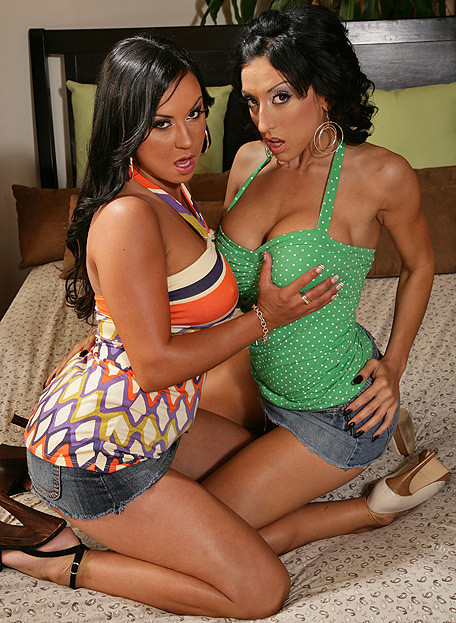 Ricki White and Mariah Milano Babygotboobs HD Video
What people are saying about: Ricki White and Mariah Milano - The Long Stallion babygotboobs scene
Comment #1
I think that scene broke my dick... I haven't cum so hard in decades
Comment #2
Rikki and Mariah are both unreal so I wasn't able to last all that long. I'll comment on what I saw - I liked the scenario, some funny shit, but it didn't take much convincing for these 2. The little bit of g-g action was a nice change of pace, then when they started to suffocate Tommy with their titties, that was great...and that's as far as I got, lol.
Comment #3
One filthy fuck is what this babygotboobs video scene should be called. Both women were into it pretty good from the start. Too bad the male talent wasn't up to it in this scene. He was decent, but those bitches wanted to be fucked and slapped around even more.
Comment #4
Great! Ricki White seems to be becoming the go-to girl for MFF scenes these days. And I don't know what Mariah Milano is doing between shoots, but she should keep doing it. She doesn't just do hotter scenes, she actually seems to get better-looking. (And she was hot to begin with) Girl's eating her Wheaties, I guess. It's also nice to see some titfucking going on. Even if it's just a cursory probing, it's a waste of a good rack not to run one up in there for a while. So that was a bonus. The only way it could have been better, and this is very minor, is if the scene finished with a facial instead of a tit-shot. But that's only worth about ten percent of a point, so this remains a ten in my book.
Comment #5
I know it was easier to film them standing at a money teller. I would have liked them to have pick up the wrong phones instead. The g/g action can sometimes be a hit or miss. I really thought it was a hit. Ricki and Mariah both got into each other very well. I've seen them work together before so I knew this would work. I still don't think this was some of Tommy's best work. The cowgirl that Ricki White put on topped Rachel Starr by far from yesterday. Though I've seen better by Tommy. Mariah and Ricki sweating was worth the pleasure.
Ricki White and Mariah Milano Babygotboobs Picture Gallery
If you're thinking:
"FUCK ME! I really dig this Ricki White and Mariah Milano babe!
How much do I have pay to see the full length movie?
Only 1 lousy dollar?
27 sites included? Fuck Yeah, Show Me Where!"