Baby got boobs presents: Beach Babes fucking a phony lifeguard
Scene Title: Too Much Cleavage?
Storyline: Halia and Priscilla were minding their own business, when all of a sudden Lifeguard Gunn came along complaining about their attire. The girls baffled by this, still followed him back to his office. Once there they made a deal. Tommy would get to fuck them both and let them go or call the cops and get them arrested, the girls didn't want to get arrested so they agreed with the deal...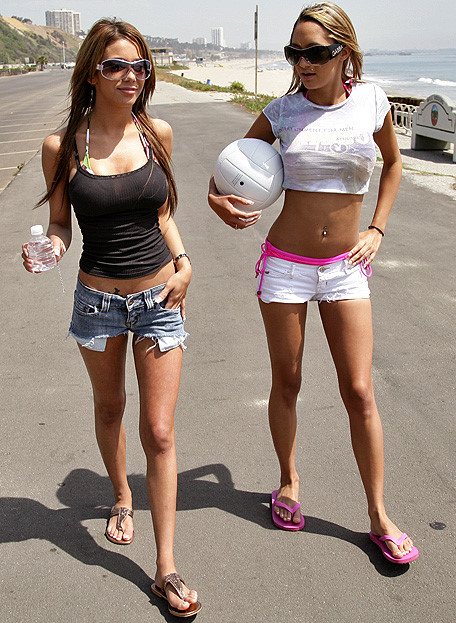 Priscilla Milan and Halia Hill Babygotboobs HD Video
What people are saying about: Priscilla Milan and Halia Hill - Too Much Cleavage? babygotboobs scene
Comment #1
Halia is the best looking and sounding girl on this entire site. MORE PLEASE!!!!
Comment #2
Great babygotboobs update. Halia is one of my favorites and I love watching her fuck. For me, the best part of this scene is when TG first starts fucking Halia. She lays back with those lovely legs spread wide and her hot, slick pussy is tightly wrapped around his big dick as he goes in balls-deep! He gives that pussy a good workout! Wow!
Comment #3
these girls have cute faces. nice bodies and yes the boob job on the one should be fixed cause there is something wrong, and im concerned for her health. but i overcame the bad and focuses on the good. another success
Comment #4
well, i lasted appx 3.2 seconds. i squirted when they were about to play volleyball. that was the best hand sex i've ever had. oh, and that one girl whose tits were all fucked up and shit was totally fucking weird and shit. i cried. the other one is the hottest girl i've ever virtually raped. i feel sorry for abusing my kitty, he must be very sore. snickers won't be on his feet for weeks. well my johnson is only 2.4 inches though, but that's average right? i still please lots of girls. well, i've never actually been with a girl, but i bet i could. i'll just stick to snickers from now on. i would like to see more videos of this halia, i would spank her if she was being naughty, well, even if she wasn't being naughty, i'd spank myself. well considering i've ejaculated about 17 times while typing this comment i should probably see my doctor about that boner i've had for 2 1/2 months. it gets quite annoying. well i hope you have all read my comment because it's one hundred percent true. and if there are any porn scouts out there please accept me into the industry i would like to have many sexy times with that girl, and other girls, please excuse my 2.4 inch penis. actually if someone could hire me to do pornos but i only masturbate by myself the whole time, that would be fine too. because i am really good at pleasing myself on camera. i have filmed every jerk sesh and saved my nut in a pool in my backyard which i occasionally swim in. thank you for your time.
Comment #5
These awesome babes need to open their mouth for cum, other than that they are hot, hot, hot
Priscilla Milan and Halia Hill Babygotboobs Picture Gallery
If you're thinking:
"FUCK ME! I really dig this Priscilla Milan and Halia Hill babe!
How much do I have pay to see the full length movie?
Only 1 lousy dollar?
27 sites included? Fuck Yeah, Show Me Where!"