Baby got boobs presents: Jayden and Nikki pounding away hard on a big cock
Scene Title: The Big Payback
Storyline: When Nikki asked Charles to be her date for valentine's day, Charles simply replied that she was way too nerdy and not hot enough. Saddened by this Jayden came up with a master play to get Charles and his girlfriend back. They would both fuck the shit out of Charles. Caught off guard Charles was taken into a room where theses two sexy nerdy girls had their way with him. I'll tell you one thing, Charles will never deny a nerdy girl again...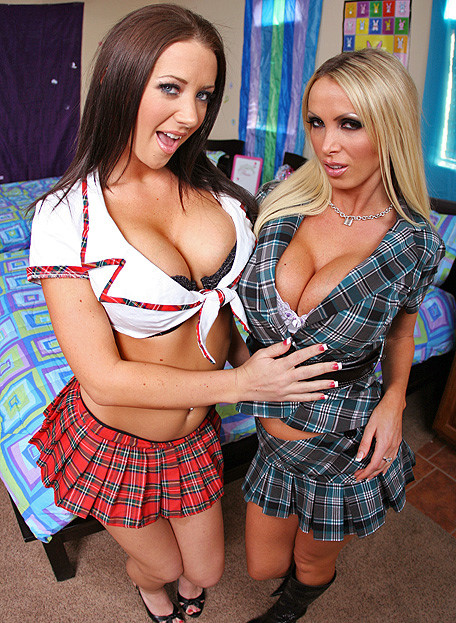 Nikki Benz and Jayden Jaymes Babygotboobs Picture Gallery
What people are saying about: Nikki Benz and Jayden Jaymes - The Big Payback babygotboobs video
Comment #1
great scene, i only wish they would have stayed in there mini skirts a litle longer. I got a thing for mini skirts, im glade they come off eventually, but a little more teasing with them on would be great. Thanks ZZ and keep up the good work!!
Comment #2
FINALLY a new babygotboobs video with the GIRLS jerking off the guy into their mouths rather than the guy jerking himself onto their mouths/faces. HOT!
Comment #3
Nikki Benz...being overused !? Isn't that like an oxymoron? It's just not possible to overuse Nikki AKA Queen of Brazzers. She should have her own site on the network! And I can only thank Brazzers for possibly outdoing themselves on next weeks update with Nikki & Puma (better be some serious titty fuckin' in there!). As far as Nikki asking out the guy in front of his girlfriend...she's playing a nerd, and I believe with her top notch acting technique & theater background, she really sunk herself into this role..."What would a nerd say, how would they act in this situation...what is the motivating power behind this desire", are probably just a few of the questions she asked herself when developing her character. Figuring out that a nerd is socially awkward and might say the wrong thing at the wrong time, she came up with the idea to have her character ask out the guy of her dreams in front of his girlfriend. Nikki Benz is not only the finest cocksucker on Brazzers, she's also a damn fine method actor. I for one, think she could've won the Oscar for this role and was robbed of a nomination, fuck that Ellen Page bitch and her hamburger phone. Nikki's brave performance as a school nerd who overcomes the boundaries of social classes to win the love of her...day...and suck his cock, is only matched this year by Daniel Day Lewis in There Will Be Blood. Personally, in this type of role, Nikki could be speaking Vulcan and talking about Scientology while eating spam...and I wouldn't give a damn. A new Nikki update makes Jack a happy boy.
Comment #4
Both Nikki and Jayden are hot. I'd like to see both back for many more babygotboobs videos. I would have liked to have seen Jayden get more playful with Nikki, seemed like Nikki was doing all the pussy eatin'. I also think you should have used anyone but Dera, that guy is annoying. I just can't stand him. Also, if you're going to have either one of them or both play "nerds" then at least make them look like a nerd. Neither one of them looked like a nerd to me. Overall, it was a good update, but not great. 8/10
Comment #5
I waited before I commented on this babygotboobs video. The setup was okay. It was really quick and was missing something. I mean asking out a guy in front of the gf. WTF? My first time checking out Jayden James and I loved what I saw from her. I'm gonna be the first to say it but. Nikki Benz is being over used. This makes three times this year and still no Shyla. BTW I'm not even a Shyla fan. I'm just making a point. Also Puma and August have had alot of scenes this year too. I understand you shoot the scenes when the girls are available but you could hold off on the release for more of a tease factor. Still 2 erect nips, Snoogans!
If you're thinking:
"FUCK ME! I really dig this Nikki Benz and Jayden Jaymes babe!
How much do I have pay to see the full length movie?
Only 1 lousy dollar?
27 sites included? Fuck Yeah, Show Me Where!"