Baby got boobs presents: Big Titted Hairdresser gives big cock special
Scene Title: The Barbershop's Special
Storyline: There's a new barbershop in the neighborhood that all the guys talk about. Ralph decided to check it out and went to get a haircut. He was surprised to see the hairdresser Kinzi was so hot and sexy. Kinzi suggested him to get the barbershop's XXXtra Special Treatment which consisted in getting a haircut while having dirty sex with her. Ralph agreed to take the special and fucked Kinzi's big boobs and tight pussy hard and shot his load all over her pretty face.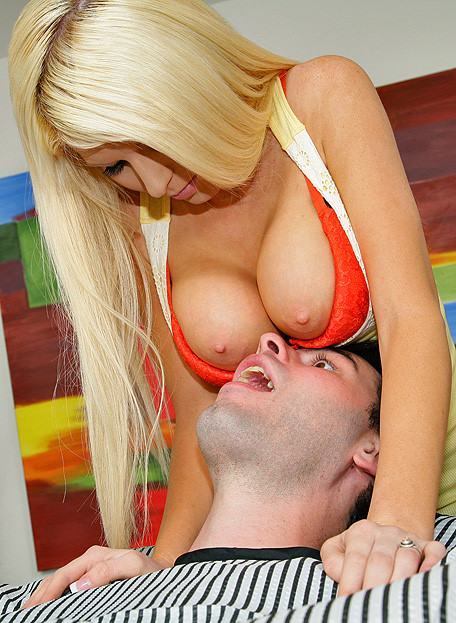 Kenzi Marie Babygotboobs HD Video
What people are saying about: Kenzi Marie - The Barbershop's Special babygotboobs scene
Comment #1
Great fucking, especially the last scene where she is laid back on the chair with her legs spread wide. Nothing like watching some well-filmed vigorous pussy fucking in the missionary position. Good views of her tight pussy stretched out nicely around that dick as it pumps in and out. They fuck for about 4 and a half minutes in this position before the guy cums.
Comment #2
Kinzi was hot, shes got a unique look, not sure what it is but its very sexy. Shes got bags of potential however her moaning at the moment is a little too fake and boring. Her tits are a bit too big and fake for my liking. Those things look ready to pop. The doggystyle was awesome though.
Comment #3
I think this chick is super hot...love the face, eyes, and body. I do have one complaint though...can somebody give this girl come coaching on her moaning? It gets really annoying and I lose my concentration because it is non-stop and soooo fake.
Comment #4
I agree with everyone that the babygotboobs scenario is kinda played, but who cares, Kinzi is of the meatrack hot. I love her petite little body, and she has a certain look to her face and eyes that's just amazing. Her hairstyle here was mad sexy too. Watching her ride dick was great, but the rest of the scene was average besides that. Hope we get more of her soon
Comment #5
Kinzi has her 2nd scene on ZZ. It can't be flattering to know that people would rather talk about the other chick. I wish this scene didn't go with the lame "special treatment" idea. Seen that too many times in the massage scenes. Now had Ralph known he was gonna really cut his hair shorter than it is now. Have her take a plug out of his head and have to repay him with sex. Much better idea IMO. Didn't enjoy the camera angle for the cowgirl. The only thing that bothers me about Kinzi. It's that damn awful moaning. She is 2nd worse behind Rhylee. Ralph the deejay was on point again with that cumshot. Yes katie is right, Kinzi took it like a super advanced pro. Snoogans!
Kenzi Marie Babygotboobs Picture Gallery
If you're thinking:
"FUCK ME! I really dig this Kenzi Marie babe!
How much do I have pay to see the full length movie?
Only 1 lousy dollar?
27 sites included? Fuck Yeah, Show Me Where!"