Baby got boobs presents: Daisy and Kinzi in a steaming menage a trois
Scene Title: Looking for a roommate
Storyline: Daisy and Kinzi seem to know exactly what they are looking for in a new roommate. He has to be clean, respectful, know how to party and especially know how to FUCK THEM HARD!! Ralph was surprised to see how wild these two girls were and he loved fucking the shit out of these two hotties and cummin' all over their big boobs. Now, he just hopes they will pick him as their roomie.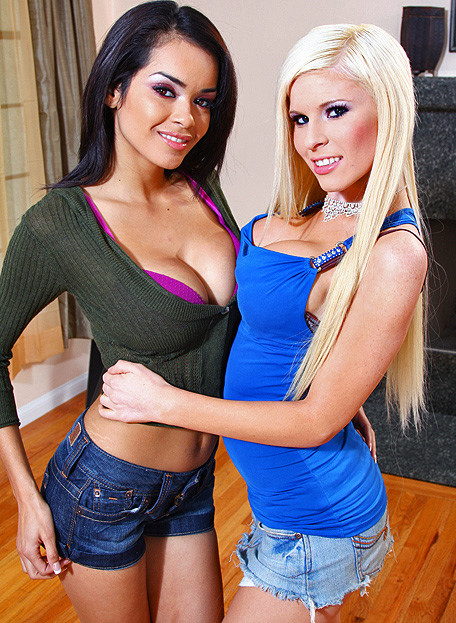 Kenzi Marie and Daisy Marie Babygotboobs HD Video
What people are saying about: Kenzi Marie and Daisy Marie - Looking for a roommate babygotboobs scene
Comment #1
Kenzie is hot too babe got a lovely ass and a real cute butt hole xxx
Comment #2
I've still seen Daisy look better in other scenes. Kinzi was fuckin cute, but her breasts are ruined from her implants. She went way too big, it's such a turn off. They look like too balloons that are about to pop if one more breath of air is blown into them. She should have not gotten breast implants or at least gotten a size that looks natural with her body structure. I hope she gets a reduction. Other than that, she's cute. Wouldn't mind seeing more of her, I'll just have to ignore her chest. The sex was alright, would liked to have seen rougher sex. I liked how they told him they were bisexual. Daisy wasn't eating enough pussy to look bisexual, Kinzi was the one eating all the poontang. Overall a decent babygotboobs scene, could have been better though. 8/10.
Comment #3
The blond girl is easily one of the hottest girls i've ever seen............
Comment #4
Crissy, Janet, and Jack had nothing on these three. Nice setup into the story. I was really impressed with Daisy and her take charge skills. It had appeared to me that Kinzi hasn't been shot much. I don't think she will blow up like Lichelle. However I do believe a few more times on camera and she will be a real go getter. She will learn to keep her hair out of the way and not block the view with her hands or head. Daisy that was some hot ass doggy that you displayed and that standing reverse cowgirl with Kinzi doing a handjob was instant chill bumps. How the hell do these newbies avoid the facial? That's just a hazing crime. 2 erect nips, Snoogans!
Comment #5
Good storyline, and they did a decent job acting it out. I think Daisy is just gorgeous and her latina accent when she speaks is so sexy. First time I'm seeing Kinzi, and I like her. She's a bit on the skinny side, but she's vocal, can take a dick down her throat, and her bolted-on juggs don't look bad on her. The sex was average, at best. Kinzi's hair got in the way too often and Ralph sucked. I do like how Daisy pays a ton of attention to her new additions, I find it really hot. They did a good job saying thier lines in sync the way they did. I continually like the more recent $$ shot on the titties, keep em coming. In addition to needing a tan, Ralph needs some fashion tips. He's definitely making enough to buy a new wardrobe since he's in every other scene you guys release. His clothes are the worst. Next time, pay him in gift certificates for Bloomingdales or Macy's Men's Department or something.
Kenzi Marie and Daisy Marie Babygotboobs Picture Gallery
If you're thinking:
"FUCK ME! I really dig this Kenzi Marie and Daisy Marie babe!
How much do I have pay to see the full length movie?
Only 1 lousy dollar?
27 sites included? Fuck Yeah, Show Me Where!"