Baby got boobs presents: Hailey Star fucks her sisters boyfriend in a maid uniform
Scene Title: She has something i want!
Storyline: Hailey's boyfriend has a fantasy of fucking a girl dressed as a French maid. She shared this with her sister Hailey. Her sister, who secretly thinks Hailey's boyfriend is cute, used this information to good use. She dressed up in a sexy French maid outfit and seduced her sister's boyfriend. He couldn't resist those big tits bulging out in that tight outfit. She really made his fantasy come true in this hot scene!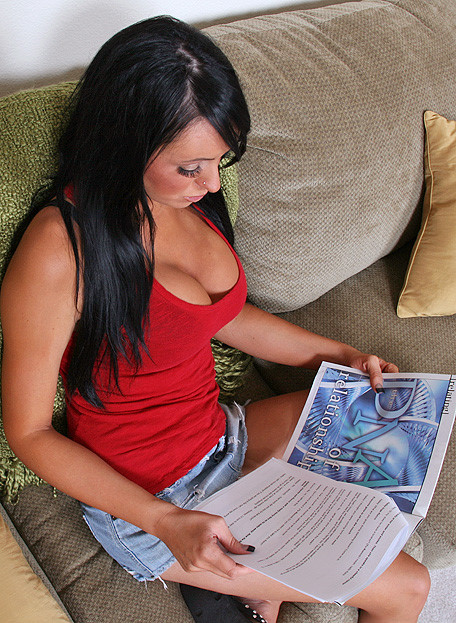 Hailey Star Babygotboobs HD Video
What people are saying about: Hailey Star - She has something i want! babygotboobs scene
Comment #1
Wow. I thought by the picture that she's be super hot, but when I watched the video and got a closer look of her face, I was disappointed. She wasn't as hot as I made her out to be. Nice body, hot as costume and the outfit she had in the early stages of the scene too. However she didn't have any shape to her ass and that costume needed a nice round booty poppin out of the back. She's alright looking, nice scenario but execution wasn't great. Rocco seems to be kind of a quiet guy or something, he doesn't say much in his scenes. The sex needed to be rougher. I think we all know they got a a line or two backwards. Wasn't as great as I was making it out to be in my anticipation. 7/10.
Comment #2
Fuckin-A Hailey Star is hot. This girl knows how to fuck. Great storyline, too. I have to agree with some disagreements, lol. YES, great camerawork showing full-body shots and not too many closeups. But also YES, the angles sucked and the camera didn't sit still. The hair did get in the way at times, you couldn't just have her blow him from the left? Rocco was worthless here. I hope you gave Haily Rocco's pay cut too cuz she did everything. Can't believe she stormed out just cuz he wanted 5 minutes, wtf? What a bitch! lol. I'm totally into this girl and hope you have A LOT more of Hailey Star on the way
Comment #3
Train wreck from hell. The babgygotboobs video started like it was gonna kick ass. Hailey looked super sexy in that french maid outfit. Her cowgirl was good but the pace needs more speed. Who ever was holding the camera really needs to tighten their game up. How you not going to tell Hailey & Rocco to work together to keep her hair out of the way? Also the camera angles were horrible. Falling out of the pussy happen too often. Over playing the stroke shouldn't have happen that many times. Rocco seems to always look soft and that cumshot was real weak. Here's a tip: next time Hailey is filmed make sure she is shot from the opposite side of where her hair lays. 1 dried up puss, Snoogans!
Comment #4
BRAVO, Brazzer Cameraman....!!!! This is what I am looking for in this sight. The sexy outfit with stockings and heels and very few Close Ups....!!!! Secene 8 is an excellant display of the Camera work........THANKS FOR THIS ONE...!!! Please keep em coming like this...................
Comment #5
Can't go wrong with the maid outfit and Hailey looked hot, nice scene. You can see that Hailey can take a pounding and like it, this wasn't as good as her first one but still good. Nice setup, who would you choose between the two Haileys? there is not wrong choice there. Please Brazzers can we have a sequel or a scene where Hailey Young is dressed as a maid too, she really looked cute at the end.
Hailey Star Babygotboobs Picture Gallery
If you're thinking:
"FUCK ME! I really dig this Hailey Star babe!
How much do I have pay to see the full length movie?
Only 1 lousy dollar?
27 sites included? Fuck Yeah, Show Me Where!"