Baby got boobs presents: Hottest thressome ever Gianna Micheals and Brandy Talore in hardcore sex
Scene Title: Gianna and Brandy threesome
Storyline: Anything better than one giant rack, is two extremely giant racks! So, we brought back to professional busty bitches: Gianna Michaels and Brandy Taylore. These girls were so into each others huge tits...that is, until their cock arrived! Theses horny girls bounced around their giant naturals as they took some serious pounding! They could not wait to take that giant load all over their huge DD tits. All we can say is that this threesome was legendary!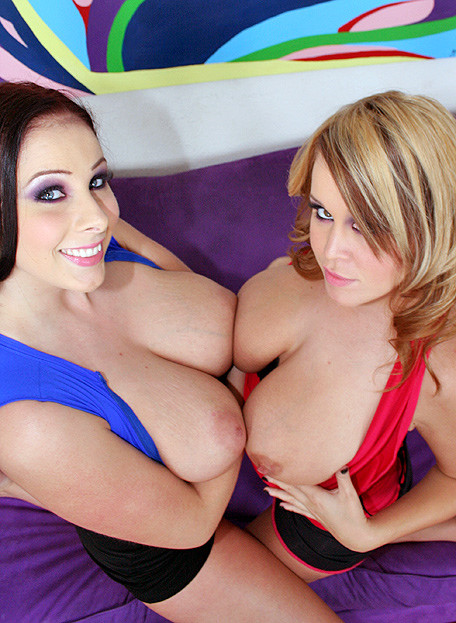 Gianna Michaels and Brandy Talore Babygotboobs Picture Gallery
What people are saying about: Gianna Michaels and Brandy Talore - Gianna and Brandy threesome babygotboobs video
Comment #1
Two of the best big boobs girls in one babygotboobs video - man thats whatI call heaven. Brandy is my favourite star with her great tits and round ass and Gianna rates as a close 2nd for me. These girls are awesome and I love the way they ride the guys cock:- one lucky fella!
Comment #2
I was referred this scene by MaddMatt and I was told it was intense. I do believe he was being modest. The only time this scene slow down was during the derty south of Gianna to the pearl of Brandy. Kurt was being so rough with these chicks. Brandy was into for all but a couple seconds when was trying to get her to take her top off. I thought a couple of moments in this the camera should have stopped or some things could have edited out between Gianna and Kurt. Still a great scene with wild animals going at it.
Comment #3
Gianna Michaels was the very first porn star that I ever really got into and then Brandy Talore, so after seeing the screen cap on the site i HAD to join. Best girls on the site. I love them so much that on my portable harddrive i have folders such as MILF, Teen, and Big Tits, and so on, but the only two folders that i have specific scenes are Brandy and Gianna. Perfect girls.
Comment #4
WoW!! Brandy and Gianna together is really nice. I wouldn't mind seeing those two cunts join up with Sara Jay and do a three way and throw in a cock for good measure. That would be hot!! But Brandy, oh man, she's a swwetheart. A cunt ofcourse, but a sweetheart too.
Comment #5
To the person that said Giannas has a fucking obnoxious laugh. Your right. Some of these bitched needs to just shut the fuck up huh? The only time these cunts mouths should be open, is when there's a cock being shoved in it, and making them choke and gag. As far as them being fat, well, I'd like to know what your option of fat is. These two whores are hot. Brandy may have a little gut, but that cunts big, massive, fucking tits make up for it. These bitches are hot.
If you're thinking:
"FUCK ME! I really dig this Gianna Michaels and Brandy Talore babe!
How much do I have pay to see the full length movie?
Only 1 lousy dollar?
27 sites included? Fuck Yeah, Show Me Where!"