Baby got boobs presents: Busty Bitch fucking the artists huge dick
Scene Title: I'm an artist...let's fuck
Storyline: Angelica Raven wants to have a sexy portrait made for her boyfriend. When she goes to the studio to do her shoot, the artist has a last minute change plans for her. Hesitant at first, Angelica soon learns to trust Mikey the painter if she wants to leave completely satisfied.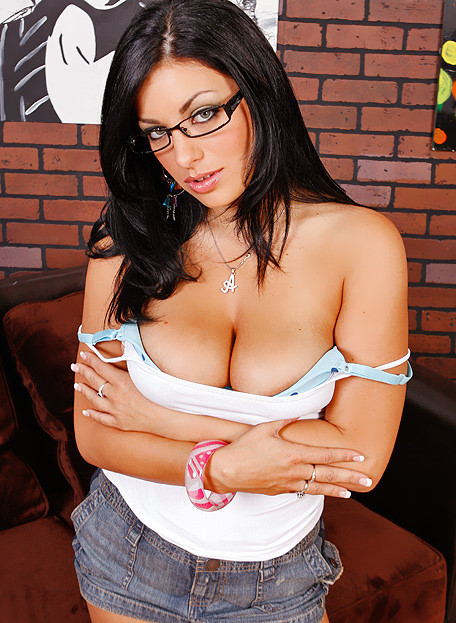 Angelica Raven Babygotboobs HD Video
What people are saying about: Angelica Raven - I'm an artist...let's fuck babygotboobs scene
Comment #1
Damn! This Angelica Raven is going to make me paint the ceiling white! Its nice to watch doggie style with big fucking natural tits bouncing all over the place! I am adding Angelica as a Favorite after taking it up the ass. Those are big tits. That oufit and boots have me whacking off like a maniac! this scene should be a ten. Mikey really tore that ass up and the camera was always in the right place! I love the way Angelica uses her eyes and facial expressions while getting pounded by Mikey! This baby got boobs scene should be a 10! Mikey fucking hosed down those big ass natural titties with a mega-cumshot!
Comment #2
dang, dang -- she is the ultimate hotty-- has it all looks body and takes anal well can't wait until you have her back again
Comment #3
4 out of 10! She is much better than this, her first time, working for ZZ, and you do her this way. Elements, that should have been included, were edited out, especially the changing part, camera work sucked big time also. She could have lost the outfit, if that's what you call that, after some time, she has a nice natural body, people want to see it, not having some leather straps hanging on her! Bring her back in a better story, and fully nude, next time!
Comment #4
The story wasn't bad and funny that he peeled her twice with the drawing and money. Never enough Mickey Butders on here so I usually enjoy his scenes. Really loving the fact that you guys are bringing new blood to BGB. So I thought she looked better with the glasses on. She's young so still time to get that body trim. I wasn't expecting the double surprise of natural titties and doing anal. The spooning and mish were alright just wasn't feeling it all the way through. I was liking the doggy once he opened up and the camera angle got better. He did all the work while she rode him. I wouldn't mind seeing her again but with more effort. That was a pretty damn good cumshot on her titties. Snoogans!
Comment #5
I liked Angelica a lot and would love to see her back, but skip the anal next time...just do more of those nice rev cowgirl. I thought that was the best part of the baby got boobs scene.
Angelica Raven Babygotboobs Picture Gallery
If you're thinking:
"FUCK ME! I really dig this Angelica Raven babe!
How much do I have pay to see the full length movie?
Only 1 lousy dollar?
27 sites included? Fuck Yeah, Show Me Where!"