Baby got boobs presents: Allie Foster fucks her sisters boyfriend as payback
Scene Title: Get off the phone bitch!
Storyline: Allie's little sister is always on the phone talking to her boyfriend. She is so possessive of the phone that she won't even let Allie use it because she doesn't want to risk missing a call. Allie is fed up with this situation. So to teach her little bitchy sister a lesson, Allie decides to sneak into her sister's room and fuck her sister's boyfriend when she's not around...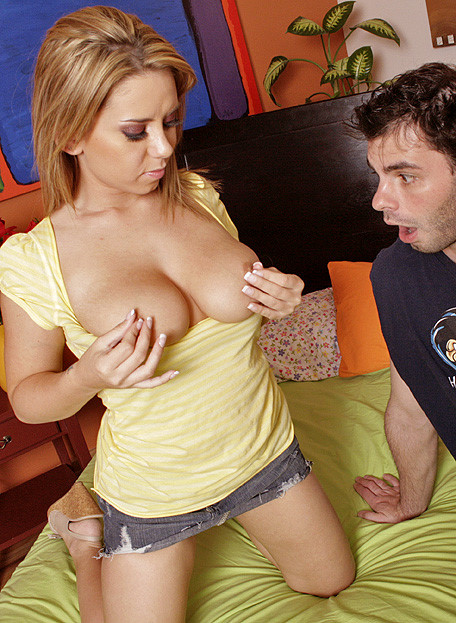 Allie Foster Babygotboobs HD Video
What people are saying about: Allie Foster - Get off the phone bitch! babygotboobs scene
Comment #1
i wish she would have left that bra on a little longer with those beautiful breasts hanging out of it. but nonetheless still one of my favorite baby got boobs scenes. need more of her please!..
Comment #2
Cant believe I forgot about this scene. Allie is so hot. Shes my perfect type of girl. Fat ass, big natural tits and nice meaty pussy lips. Loved how in cowgirl she was creaming on ralphs dick. Please brazzers bring her back
Comment #3
Wow. Allie is a hottie. Loved her natural tits. She has a great ass. In many ways she resembled Bree Olson in my opinion only with with a different hair color. I agree, she was repetitive in the scene, but it was still a good first baby got boobs scene. I loved watching her cum on his dick, I wish we could have seen her lick it off. The sex was good, but could have gotten a little dirtier since she even said to him, "You like dirty girls?" The sex was good, it wasn't too rough for this scenario which is good. The only thing I would change Allie is that bush. I think you'll be a perfect 10 with a shaved pussy, but if you must have hair down there, stick with a landing strip. That's more hair than I'd like to see down there. 9/10.
Comment #4
Allie did a good job in this scene. I like her natural breasts a lot, it looks great on her, I hope she stays that way. One thing that was annoying was her moaning during this scene...how many times can she say "oh shit, oh fuck...etc" and repeat those two? Ralph delivered a good cs, and also thankfully we got some titfucking in this scene. That's quickly becoming a "lost art" around here, and it shouldn't. More scene with Allie please, she'd be good paired up with another girl in a 3some scenario.
Comment #5
allie put in a nice performance and kept the pace going well. i would had rather seen no hair around her bush and ralph i have been begging for you to shave that gorilla hair becuase you are a very nice male performer (you don't have to completely shave everything but please trim around your package). ralph delivered a very nice cumshot (as always) but i would have like to have seen some oral skills from allie between positions and after the cumshot. allie deservers more credit and overall a good scene!
Allie Foster Babygotboobs Picture Gallery
If you're thinking:
"FUCK ME! I really dig this Allie Foster babe!
How much do I have pay to see the full length movie?
Only 1 lousy dollar?
27 sites included? Fuck Yeah, Show Me Where!"